HPU Coaching Staff
Lyndsey Boswell, Head Coach - High Point University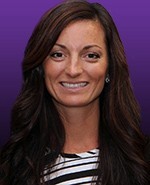 Lyndsey Boswell was hired in 2009 as High Point University's first head women's lacrosse coach and has been the architect of the Panthers' swift rise to a championship-winning league power.

Boswell has led the Panthers to five conference championships in the program's first seven seasons (2011-14, 2017) and guided HPU to the program's first two NCAA Tournament appearances in 2013 and 2014.

Then came 2017, which was the best year yet, as Boswell led the Panthers to a 16-4 record and High Point University's first-ever NCAA Tournament win in any sport with a 21-15 victory over No. 18 Towson. 2017 also included a school-record 16 consecutive victories, the Big South regular season title with an undefeated 7-0 record and a 19-5 win over Campbell in the Big South Championship final.

The 2017 Panthers had eight all-conference selections, including Samantha Brown (offensive) and Christina Del Sesto (defensive), who earned Big South Player of the Year honors. High Point broke the single-season team records for wins (16), points (480), goals (314), goals per game (15.7), assists (166), shots (711), shots on goal (516) and caused turnovers (245). For her efforts, Boswell was named Big South Coach of the Year.

Kelly McQuilkin, Assistant Coach - High Point University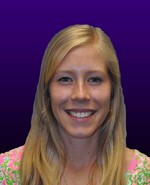 Kelly McQuilkin joined the HPU women's lacrosse program as an assistant coach in August 2017.

McQuilkin comes to HPU after being a three-year defensive starter for the nationally-ranked Towson squad that faced the Panthers in the 2017 NCAA Touranment. She marked up on opposing team's key offensive players, served as the Tigers' team captain for 2017 and was selected to play in the 2017 IWLCA North-South Senior All-Star Game.

McQuilkin served as the defensive coordinator of the Hero's Tournament Lacross Club 2021 Green squad from 2014-17 and worked as a private lacrosse coach from 2014.

She graduated Cum Laude from Towson in 2017 with a degree in business administration and finance.
Caroline Margolis, Assistant Coach - High Point University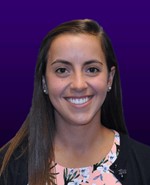 Caroline Margolis joined the Panther women's lacrosse program as an assistant coach in September 2017.

Margolis came to High Point after serving as an assistant coach at MIT for the 2017 season. She focused mainly on the draw and offensive units. She also spent the 2017 United Women's Lacrosse season with the Baltimore Ride as a midfielder.

Margolis was a standout member of the Boston College program from 2012-16 and was a member of four NCAA Tournament teams, including the first-ever BC squad to reach the NCAA quarterfinals in 2014. She was team captain her senior year and was named to the Tewaarton Award Watch List in 2015. She was named to the IWLCA All-Northeast Region and All-ACC Second Teams in 2015.

She graduated with a double degree in economics and applied psychology & human development from Boston College in 2016.